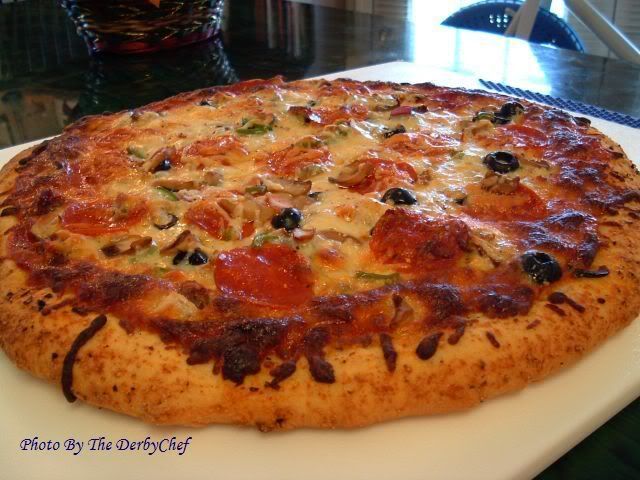 Ingredients:

Toppings
1 cup Ms. Cozzi's Spaghetti Sauce
1/2 small onion, diced
2 cups mozzarella cheese
2 tablespoons of Parmesan Cheese
1teaspoon of Basil
desired toppings



Crust Edge Topping


2 tablespoons of melted butter
1 teaspoon of Italian Seasoning
1/2 teaspoon of Parmesan Cheese



The Crust


1 package active dry yeast
1 cup warm water (105 to 115 degrees)
2 1/2 cups all-purpose flour
2 tablespoons olive or vegetable oil
1 teaspoon sugar
1 teaspoon salt
2 1/4 teaspoons cornmeal
Preheat oven 400 degrees.

Instructions:

***Bread Machine instructions***
Dissolve the yeast into the warm water once yeast is dissolved stir in sugar.
Let the yeast set until it creates a foam on top of the water surface(takes 10 to 12 minutes).
Mix all the wet ingredients for the crust into the bread machine first.
Then add the dry ingredients into the bread machine.
Select the dough option on your bread machine and press start.
Once the dough is complete continue with the shaping instructions.
***By Hand Instructions***
In a large bowl add flour, salt, and sugar.
Dissolve yeast into warm water then add to bowl.
Mix ingredients well (don't over work dough).
Form dough into a ball and let rest for 5 minutes.
Once the dough is complete continue with the shaping instructions.
***Shaping Instructions***
Using a floured rolling pin and floured cutting board roll dough into a circle.
(Rotate the cutting board while rolling for a optimum shape).
***Setting the Crust***
On a large round sprayed baking pan add rolled out pizza dough.
Adjust the pizza's dough shape to the pan and form the edges to stand taller the center.
(*Smooth your cupped hands around the edges of pizza dough while
gently bunching the crust edges toward the center.*)
Using a fork lightly prick holes evenly over pizza crust except for the edges.
Place into the oven and bake for 8 minutes only.
Remove the crust from the oven then place crust onto a cutting board sprinkled with cornmeal.
(*If your not using a cooking stone then place crust onto a large round baking pan covered with cornmeal
and continue withe the remaining instructions.)
Reduce the oven temperature to 350 degrees.
***Making the Pizza***
Mix the Butter Crust Edge ingredients together in a small bowl and set aside.
Mix together the Mozzarella cheese, Parmesan Cheese and the basil in a small bowl and set aside.
Base crust's edges with the butter mixture.
Layer the center with the spaghetti sauce then add a thin layer of the cheese mixture.
Top pizza with desired toppings and the rest of the cheese mixture.
Either using a large spatula or a pizza wheel carefully place pizza onto the cooking stone
and bake for 20 to 25 minutes or until edges are gold brown.
Remove the pizza from the oven the slice and serve.